Pioneer Conveyor - Idler Specifications
3/4" Seal Product
Pioneer Conveyor manufactures a C series idler for 18" through 60" belt widths. With troughing and training idlers offered in 20° and 35° trough angles standard. The new Pioneer CEMA C design features low roll resistance (< 4 in lb) with a solid 3/4" shaft that provides structural integrity that minimizes shaft slope at the bearing location which increases bearing life. Idler rolls are fitted with a Modified Geometry Tapered Roller Bearing. This bearing has higher radial and dynamic load ratings than a standard 1" Diameter Tapered Roller Bearing.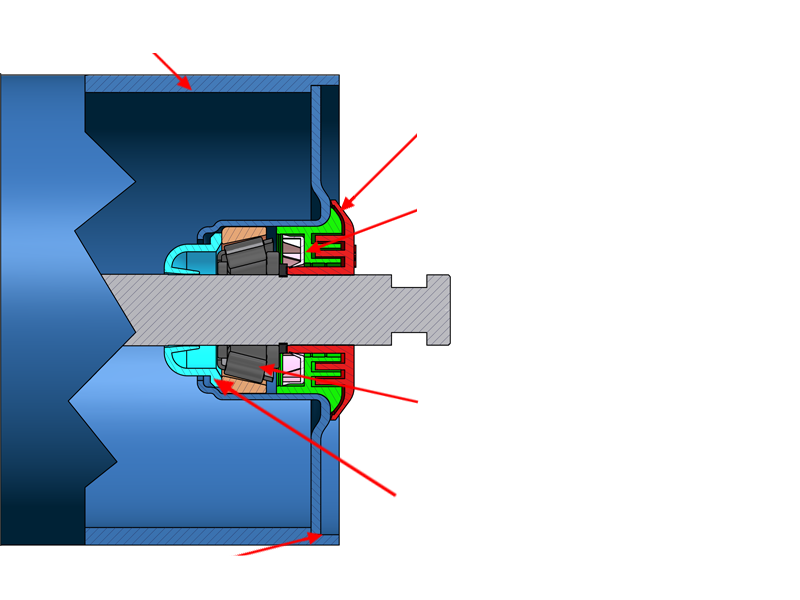 Available in 1/4" wall and 7 or 9 Gg tube. ASTM 513 Specified Steel Tube with tight tolerance on Ovality, OD, and Straightness. Also, ask us about our 9 gauge lightduty product line.
External Labyrinth Seal diverts contaminants away from bearing cavity by centrifugal force
Labyrinth Seal Kit is packed with Renolit ST-80 grease to retard contaminates from entering bearing cavity, and also carries oxidation prohibitors to eliminate possible corrosion due to metal condensation.
Area behind the inner labyrinth seal is filled with Uniwirl 2 Grease (lithum complex) to prevent oxidation, and provide 3rd layer of protection to the bearing.
High Capacity Permanently Sealed 6306 Deep Groove Ball Bearing with 25% more than standard grease fill for harsh conveyor environment application.
Custom Bearing Cavity design to produce idlers with minimal TIR
Application:
System component for conveyor structure used for moving bulk materials.
Modify your troughing angle to maximum material transport based on belt speed and material characteristics
For assistance determine what is best for you contact us
Models:
Available in 20º and 35º trough angles.
Permanent Lubricate Seal.
Precision ball bearing.
Also available in CEMA B and CEMA D.
Sizes:
Available in 18", 24", 36", 42", 48", and 60" belt widths.